Coming soon…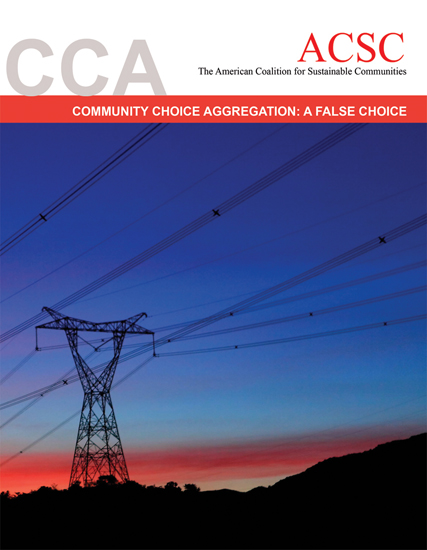 This new full color report, by ACSC contributors Dan Titus and power engineer Jim Phelps, is offered as a counterweight argument for elected representatives and staff personnel  who are reviewing, or may be considering Community Choice Aggregation (CCA). Furthermore, this publication serves as a fulcrum point for anyone wishing to further their understanding of CCAs and how they operate.
The report begins with a history of CCA; then, moves into an overview of sustainable development and its impacts. A review of renewable energy and three case studies are presented. The introduction provides an overview and background of the genesis of the report. Also, cited are key summary arguments and findings for three CCAs reviewed:
1. Inland Choice Power
2. South Bay Clean Power
3. LA CCA
The Inland Empire of California Became a Flashpoint
The genesis of this report can be summed up in a press release dated Apr 6, 2017 when Inland Choice Power Business Plan failed to move forward because of fatal flaws. Here is an excerpt:
"The newly formed Foothill Tax Payers Association (FHTP) in association with the American Coalition for Sustainable Communities (ACSC) successfully executed a campaign involving local activists to stop the San Bernardino Council of Governments (SBCOG) from continuing collaborative research efforts in starting a Community Choice Aggregation (CCA). At a SBCOG board meeting on Wednesday, a staff recommendation to move forward with a CCA was defeated when no elected city members of the board would second a motion by the Chair to vote on the recommendation. When Chairman Robert Lovingood asked for a second motion, the room went silent; when he asked again, the room stayed silent. Therefore, the issue never made it to a floor vote. It died right there.
Community Choice Aggregation is a policy where local governments aggregate (add up) electricity demand in order to procure alternative renewable energy (wind and solar) supplies while maintaining the existing electricity provider for transmission and distribution services. It promotes expensive renewable energy over traditional forms of energy.
"A six page critique of the Inland Choice Power: Community Choice Aggregation Business Plan – Final Draft, prepared by EES Consulting for SBCOG, was found to be fatally flawed," said Linnie Drolet, president of FTPA. Dan Titus, who administers the Web site iAgenda21.com and is affiliated with ACSC concurred. "We found problems with the recommendation to move forward because the benefit of saving people 5% on their electric bill did not merit the millions of dollars of startup costs associated with the plan. We also fundamentally disagreed that people would automatically enrolled in a new government CCA without advance permission."
Table of Contents

Introduction
Scope
Background
Summary Arguments
Inland Choice Power
South Bay Clean Power
Key Findings
LA CCE
Summary Points
Lack of Accountability
ACSC CCA Warning Bulletin

Overview
CCA History
The Architect of CCA
California
Decentralized Power Model
Energy Companies
Deregulation
Gaming the Power System
Regulatory Environment
Cost Recovery
CCA Opt Out: A Crony Business Model
Power Companies React to Opt Out
CCAs Want to Appropriate Benefits
Marin Clean Energy: California's Blue
Print Model for CCAs
Renewable Energy Certificates
Green-washing
Green-washing in Action
Green-washing: Misrepresentation
Transparency
CCA Contracts: Caveat Emptor
CCA: A Panaca?

Sustainable Development,
Renewable Energy
and Business Plan Reviews
Sustainable Development
Renewable Energy
Cronyism in Energy Production
Inland Choice Power Business Plan Review

Prices
Greenhouse Gas Reduction
Start-up Costs
Insider Conflict of Interest
South Bay Clean Power Business
Plan Review
SBCP's Vision
Scope of SBCP CCA
Governance Problems
Lawsuits
JPA Agreement
Southern California Edison and SBCP
Conflicts & Contradictions
GHD Goals and Inconvenient Truths
SBCP's Control Over Citizens
Money Management & Municipal Financial
Obligations
Net-New GHG RReductions
The Cost of Local Solar
Required Acreage for Solar Panels
Solar Power Production Decline Due to
Aging Solar Panels

Appendix

LA CCE Business Plan Review
Executive Summary
3rd Party Review by ARC Alternatives
Renewable Energy
RPS Requirements
GHG Reductions
Finance – Power Supply Cost Problem
Plan Uncertainty and Prices
Implementation / Completion
Solar Panel Decline Due to AgingJPAAgreement
Footnotes

ACSC CCA Warning Bulletins
Central Coast CCA Study Highlights
Peninsula Clean Energy Technical Study: Comments
Sources
Contributors
The American Coalition for Sustainable Communities (ACSC) is a voluntary coalition. National in scope, our mission is sustaining representative government, and protecting our elected representative's authority, which is being usurped, and in many cases, abdicated to unelected agencies, boards, bodies and commissions.
To learn more about CCAs, navigate to the side bar and click on GovPower – CCAs