NEW!
Community Choice Aggregation: A False Choice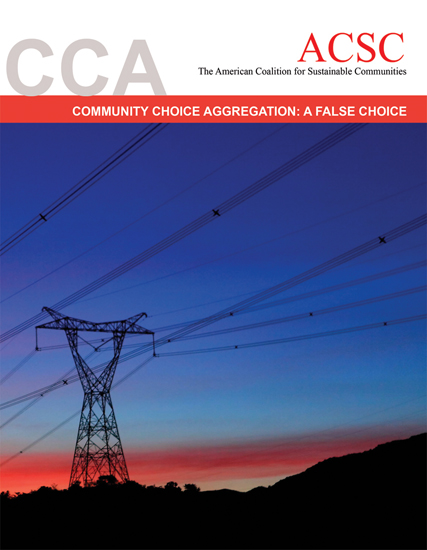 Report Unpacks the Mystery of Government Run Power Scheme
Dubious Ratepayer Savings
Flawed Clean Energy Claims
Questionable Opt Out Claims
Disingenuous Reporting
New Unelected Boards
This full color report, by the American Coalition for Sustainable Communities (ACSC), is offered as a counterweight argument for those who want the inside track about Community Choice Aggregation (CCA).
The government wants people to use renewable energy and they have devised a new scheme to get them to use it by foisting ratepayers into a government run power utility.
Community Choice Aggregation is a policy where local governments aggregate (add up) electricity demand in order to procure alternative renewable energy (wind and solar) supplies while maintaining the existing electricity provider for transmission and distribution services. It promotes expensive renewable energy over traditional forms of energy. Renewable energy costs more, that is a fact; so, power rates tend to go up with this scheme. In short, the government becomes a middleman skimming ratepayer income.
The introduction provides a brief genesis of the report. An overview is presented detailing the history of CCA; deregulation, industry business model, renewable energy certificates and green-washing are discussed. The report then moves into an overview of sustainable development and its impacts. Also included, are key summary arguments and findings. The report denotes exclusive charts, graphs and complete source citations. Key summary arguments and findings for three CCAs reviewed:
1. Inland Choice Power
2. South Bay Clean Power
3. LA CCA
Details
Full Color Paperback: 80 pages
Publisher: Monolith Press
ISBN-13: 978-1582911410
Dimensions: 8. 5 x 8.5 inches
Price: $39
Table of Contents

Introduction
Scope
Background
Summary Arguments
Inland Choice Power
South Bay Clean Power
Key Findings
LA CCE
Summary Points
Lack of Accountability
ACSC CCA Warning Bulletin

Overview
CCA History
The Architect of CCA
California
Decentralized Power Model
Energy Companies
Deregulation
Gaming the Power System
Regulatory Environment
Cost Recovery
CCA Opt Out: A Crony Business Model
Power Companies React to Opt Out
CCAs Want to Appropriate Benefits
Marin Clean Energy: California's Blue
Print Model for CCAs
Renewable Energy Certificates
Green-washing
Green-washing in Action
Green-washing: Misrepresentation
Transparency
CCA Contracts: Caveat Emptor
CCA: A Panaca?

Sustainable Development,
Renewable Energy
and Business Plan Reviews
Sustainable Development
Renewable Energy
Cronyism in Energy Production
Inland Choice Power Business Plan Review

Prices
Greenhouse Gas Reduction
Start-up Costs
Insider Conflict of Interest
South Bay Clean Power Business
Plan Review
SBCP's Vision
Scope of SBCP CCA
Governance Problems
Lawsuits
JPA Agreement
Southern California Edison and SBCP
Conflicts & Contradictions
GHD Goals and Inconvenient Truths
SBCP's Control Over Citizens
Money Management & Municipal Financial
Obligations
Net-New GHG RReductions
The Cost of Local Solar
Required Acreage for Solar Panels
Solar Power Production Decline Due to
Aging Solar PanelsAppendixLA CCE Business Plan Review
Executive Summary
3rd Party Review by ARC Alternatives
Renewable Energy
RPS Requirements
GHG Reductions
Finance – Power Supply Cost Problem
Plan Uncertainty and Prices
Implementation / Completion
Solar Panel Decline Due to AgingJPAAgreement
FootnotesACSC CCA Warning Bulletins
Central Coast CCA Study Highlights
Peninsula Clean Energy Technical Study: Comments
Sources
Contributors
The American Coalition for Sustainable Communities (ACSC) is a voluntary coalition. National in scope, our mission is sustaining representative government, and protecting our elected representative's authority, which is being usurped, and in many cases, abdicated to unelected agencies, boards, bodies and commissions.
To learn more about CCAs, navigate to the side bar and click on GovPower – CCAs