Exclusive Report – Community Choice Aggregation: A False Choice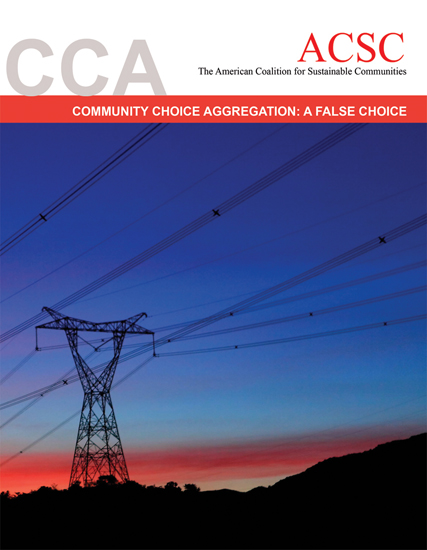 Report Unpacks the Mystery of Government Run Power Scheme
This full color report, by the American Coalition for Sustainable Communities (ACSC), is offered as a counterweight argument for those who want the inside track about Community Choice Aggregation (CCA).
The government wants people to use renewable energy and they have devised a new way to get them to use it by foisting ratepayers into a government run power utility.
Community Choice Aggregation: A False Choice provides an overview of CCAs and their impacts on cities, counties and citizens.
This report is a must read for citizens, municipal staff and elected officials considering CCA for their community.
Community Choice Aggregation (CCA) is in many ways like a purchasing cooperative or co-op. Co-ops have been around for hundreds of years. The idea is simple: use the purchasing power of many to get volume discounts.  In the case of CCA, a government entity would purchase power on behalf of its customers. This is the "aggregation" or adding up the customer demand. "Choice" means renewable energy. The report offers the other side of the CCA argument with detailed analysis regarding:
Dubious Ratepayer Savings
Flawed Clean Energy Claims
Questionable Opt Out Claims 4. Disingenuous Reporting
New Unelected Boards
The introduction provides a brief genesis of the report. An overview is presented detailing the history of CCA; deregulation, industry business model, renewable energy certificates and green-washing are discussed. The report then moves into an overview of sustainable development and its impacts. Also included, are key summary arguments and findings. The report denotes exclusive charts, graphs and complete source citations. Key summary arguments and findings for three CCAs are reviewed as case studies.
Details
Full Color Paperback: 86 pages
Publisher: Monolith Press
ISBN-13: 978-1582911410
Dimensions: 8.5 x 11 inches
Purchase
Table of Contents

Introduction
Scope
Background
Summary Arguments
Inland Choice Power
South Bay Clean Power
Key Findings
LA CCE
Summary Points
Lack of Accountability
ACSC CCA Warning Bulletin

Overview
CCA History
The Architect of CCA
California
Decentralized Power Model
Energy Companies
Deregulation
Gaming the Power System
Regulatory Environment
Cost Recovery
CCA Opt Out: A Crony Business Model
Power Companies React to Opt Out
CCAs Want to Appropriate Benefits
Marin Clean Energy: California's Blue
Print Model for CCAs
Renewable Energy Certificates
Green-washing
Green-washing in Action
Green-washing: Misrepresentation
Transparency
CCA Contracts: Caveat Emptor
CCA: A Panaca?

Sustainable Development,
Renewable Energy
and Business Plan Reviews
Sustainable Development
Renewable Energy
Cronyism in Energy Production
Inland Choice Power Business Plan Review

Prices
Greenhouse Gas Reduction
Start-up Costs
Insider Conflict of Interest
South Bay Clean Power Business
Plan Review
SBCP's Vision
Scope of SBCP CCA
Governance Problems
Lawsuits
JPA Agreement
Southern California Edison and SBCP
Conflicts & Contradictions
GHD Goals and Inconvenient Truths
SBCP's Control Over Citizens
Money Management & Municipal Financial
Obligations
Net-New GHG RReductions
The Cost of Local Solar
Required Acreage for Solar Panels
Solar Power Production Decline Due to
Aging Solar PanelsAppendixLA CCE Business Plan Review
Executive Summary
3rd Party Review by ARC Alternatives
Renewable Energy
RPS Requirements
GHG Reductions
Finance – Power Supply Cost Problem
Plan Uncertainty and Prices
Implementation / Completion
Solar Panel Decline Due to AgingJPAAgreement
FootnotesACSC CCA Warning Bulletins
Central Coast CCA Study Highlights
Peninsula Clean Energy Technical Study: Comments
Sources
Contributors
Report Addendum
ACSC Bulletin to California cities: Marin Clean Energy (MCE) Business Practices
About the Authors
Jim Phelps is a graduate of UC Berkeley and served the power, petrochemical, and geothermal industries for 37 years before his retirement. His background is in evaporative cooling tower technology and in California electric power rate structures. He provides advice to California retail energy consumers, and to California energy policymakers and regulators about California's Community Choice Energy (CCE and CCA) programs, including energy costs and viability of represented "clean" energy supplies. Mr. Phelps is an expert in evaluating CCE energy portfolios, including reconciliation with California RPS requirements, WREGIS retirement, and CEC energy reporting. His investigations into Marin Clean Energy (MCE) were responsible for exposing the volumes of rebranded dirty power that is resold to consumers as "clean" energy. This rebranded energy permeates CCE programs. Jim is available for media interviews and speaking about CCA. Contact him @ jimphelps56@gmail.com
Prior to starting a business consulting company in 1992 specializing in business planning and startups, Dan Titus was involved in high-tech electronics manufacturing in Orange County, California. He worked as a production and project manager in producing high-power amplification systems and computer components. Dan has authored several business planning publications and is a graduate of California State University, Long Beach. Contact @ FutureEarthUS@gmail.com
Publisher
The American Coalition for Sustainable Communities (ACSC) is a voluntary coalition. National in scope, our mission is sustaining representative government, and protecting our elected representative's authority, which is being usurped, and in many cases, abdicated to unelected agencies, boards, bodies and commissions.
To learn more about CCAs, navigate to the side bar and click on GovPower – CCAs
---
Articles
March 21, 2018 – Will San Diego Blackmail SDG&E And the People of the City? Looks Like it
May 1, 2018 – SD County Taxpayers Association: "CCAs Much Too Risky For City of San Diego"
May 3, 2018 – California Warns of a Second Energy Crisis
May 3. 2018 – Choice is here for California's energy consumers. What's next?
May 5, 2018 – Texas Products Double the Renewable Power as California at Almost Half the Price
October  16, 2018 – What Ventura County's 100 percent renewable energy rate may cost you
---
Comments from author Jim Phelps
On 10/30/2018 Jim Phelps wrote about WRCOG's October 10, 2018 agenda for its Western Community Energy venture (these comments apply to all CCEs (CCAs):
SB 100 (100% renewable by 2045) means everyone in California is on track to be fossil free;
SB 237 (Direct Access, aka "DA") once again ratchets up consumers' ability to purchase energy directly from energy producers and bypasses the layers of newly created CCE administration + costs. Consumers will depart from the CCE programs, triggering higher costs for those remaining CCE customers.
CCE salespeople are now engaged in job preservation (and earning commissions) as clean energy laws mature in California.  Municipalities need to:
Recognize that California is going green with or without CCEs;
acknowledge the needless debt, liability, and risk that CCEs bring to communities without delivering any benefit, other than jobs for out-of state consultants;
recognize that CCEs represent large cash exports from local communities to these out-of-state consultants and companies.  Cash exports are not a "redirection" of money back to the local community – this cash flow goes to Washington, Texas, and the east coast;
Exit Fees (PCIA) that the California Public Utilities Commission recently re-established remain a cost that also kills CCEs. The utility commission's PCIA (SCE's exit fees) vote occurred on October 11, 2018;
Cites and Towns should run from CCE salespeople and consultants.  Many proponents are current municipal employees looking for a higher paying job on CCE staff.
---