Fontana General Plan Update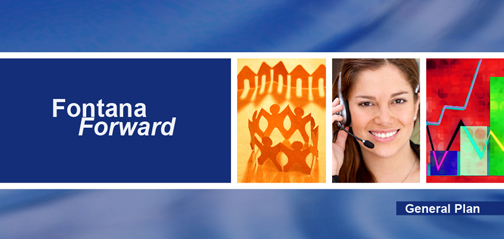 The city of Fontana is in the process of updating the city General Plan (GP). They spent  $1,724,657 on a consultant to assist the city in moving towards a Sustainable Communities Strategy (SCS). This involves a series of public consensus meetings and surveys that are eventually discussed by a hand-selected "sounding board" committee called the General Plan Advisory Committee (GPAC). A local citizen's group, The Fontana Citizen Action Committee (FCAC) has been involved in the process and as draft documents are released, they review them.
8-25-2016 – The Fontana Citizen Action Committee (FCAC), which consists of residents from Fontana and San Bernardino County, California, offers a constructive critique of city policy in a comment and question format. It deals with Chapter 12 draft of the Fontana General Plan (GP) update. The critique offers a converse to the information presented by the staff and consultant. The goal is to offer a critique and to solicit a justified response from the GPAC.
6-17-2016: Chapter 12, Sustainability and Resilience released Download Chapter 12 Draft
8-25-2016: FCAC Critique delivered to city clerk Download FCAC Critique