Road Charge: The New Behavior Modification Scheme That Makes Government and Cronies Rich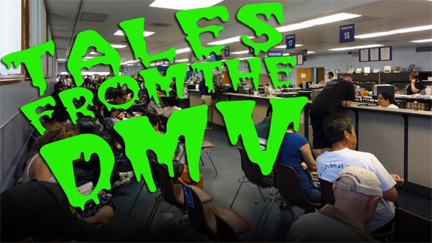 Road Charge: The New Behavior Modification Scheme That Makes Government and Cronies Rich
This is one likely scenario if unelected agencies have their way. Note, program acronyms are fictitious and for illustration only.

12-2-2017
A Visit to the DMV
DMV: Welcome to the DMV Mrs. Avilo, I see that you wish to register a new vehicle. Great, let's take a look. That will be $52; however, we've found that there is a deficit in your Vehicle Mileage Account (VMA) of $1,200. Therefore, the total for today's visit is $1,252. How would you like to pay for this?
Mrs Avilo: I don't have that kind of money!
DMV Clerk: I'm sorry, Mrs. Avilo, we won't be able to register your car today.
Mrs. Avilo: Will I still be able to drive the car?
DMV Clerk: Not without a valid vehicle registration.
Mrs. Avilo: What am I going to do? How will I get to work? How will the kids get to school?
DMV Clerk: Your account must be up to date. I see here that the actual amount you owe is $423, the rest is penalties and interest. If you make an interest payment today, we can talk about "DMV Choice", which is a program to help motorists like yourself. The amount is $176 dollars.
Mrs. Avilo: How do I pay.
DMV Clerk:  Cash, debit, credit card or personal check. If you opt for a personal check, you will have to come back in four days after the check clears. If you opt for cash, there is a $5 dollar service fee.
Mrs. Avilo:  Here is my debit card.
DMV Clerk: Thank you, Mrs. Avilo. Your card has been charged for the penalty and registration fee. Is there anything else I can do for your today?
Mrs. Avilo: I still owe you money for mileage account and interest is still accruing, right?
DMV Clerk: Yes.
Mrs. Avilo: So, if I drive, I will continue to go into the hole?
DMV Clerk: Yes.
Mrs Avilo: What can I do?
DMV Clerk: I'm glad you asked. We have a program called DMV Choice for motorists like yourself. We have a number of programs offed by our exclusive partners. Our partner, XYZ Bank, can loan you the amount you need to bring your mileage account up to date. Or, you could opt to prepay for bus tickets at a discount offered by On Time Transit Service. I can help you with both here.
Mrs. Avilo: What is the interest rate on the mileage account loan?
DMV Clerk: 14.75%
Mrs. Avilo: I don't think taking the bus would work for me. It just would not work for my schedule.
DMV Clerk: You may consider moving to Sustainablity For You, which is a new developer in our partner program. They offer work force living. That way, you will not need a car. You can simply work where you live. Instead of the expense of a car, you will have access to bus transit, bicycling and as an added benefit, walking! – the DMV is concerned about your health.
Mrs. Avilo: I'm happy where I live, I don't want to move.
DMV Clerk: We still have choices… You can sign up for our Preferred Mileage Driver Program (PMD). The DMV evaluates your mileage year based on Critical Evaluation Metrics (CEM). With this program, you purchase miles in advance. Your actual mileage driven that year was 14,345. You can buy miles from us in advance at a discount and we can apply it in advance to your mileage account. Currently, we are offering a 2 cent discount on each mile. You can opt to pay the entire amount or we can bill you quarterly. If you opt for the periodic billing a nominal service charge applies.
Mrs. Avilo: What other programs are there?
DMV Clerk: We use CEM and know the mileage that you drive. We can offer our Bonus Tiered Rate Program (BTR). It is for exclusively for you and is based on your driving profile. It works like your water billing. We allot you miles based on your driving history. You pay a fixed rate for those miles. If you go over to the next tier, you are charged more. It's that simple! As you can see, we are very flexible at the DMV. Oh, I almost forgot. There is one more very exciting program that is under development.
The DMV Motorist Exchange (DME) is a unique way for people to buy and sell mileage to fit their driving needs. With CEM, we now have big data that can help assist with driving needs. CEM estimates your driving mileage in advance. You pay only for those miles in advance. If you go under what you need, you can sell your excess miles on the DME or accrue them to the following year. If you fall short and need more miles, you can purchase them on the DME. The DME is registered with the securities and exchange commission, so it's safe and backed by the U.S. Government.
Mrs. Avilo: All I want to do is drive my car.