Stop U.S. Implementation of the UN's Paris Climate Deal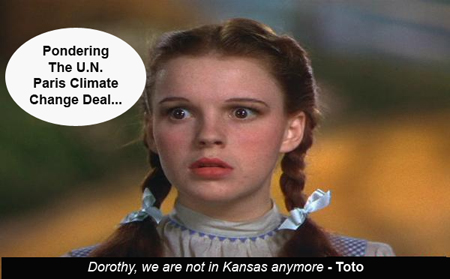 Update 6-13-2017 – A win…
President Trump says "no" to Sustainable Development; the United States pulls out of the Paris Accord
The UN left its Paris Climate Agreement deliberately vague, and seemingly nonbinding, to enable then President Obama to sign on. President Trump announced his intention to withdraw from the Paris Agreement, but the United States cannot formally exit until November 20, 2020, just after the U.S. presidential election.  In the meantime, the U.S. continues to participate in the climate talks as if nothing ever happened, or ever will.
On Thursday June 1, 2017 President removed the U.S. from the Paris Accord that Secretary John Kerry signed on Earth Day 2016. The accord's goal was to reduce CO2 to 25% below 2005 levels by 2025. Closely integrated with the Paris Accord are the 17 Sustainable Development Goals offered at the U.N. Sustainable Development Summit in September 2015 in a report titled, Transforming Our World; The U.N. 2030 Agenda for Sustainable Development. The report cited a 15 year action plan to remove poverty in the world. Couched around social justice, the goals seek to transfer wealth ithrough reparations from industrial nations to poor nations.
Global warming legislation in California is tied to Sustainable Development. The exit from the Paris Accord puts downward pressure on the rational for this legislation as Sustainable Development continues to fall out of vogue.
---
Update: 9-2-2016 – With the utmost contempt for Congress and the Constitution, Obama will 'ratify' the Paris Climate accord by 'unilateral executive action.' Increasingly, Obama is acting like a dictator and yet, Congress has done nothing to push back against such actions.
______________________________________
In Paris in December 2015, representatives of 196 nations participated in the Conference of the Parties 21 (COP21), the annual gathering convened by the United Nations for the past 21 years. The delegates expressed unanimous agreement about the need for a comprehensive accord to deal with their highly questionable claims about rapidly rising temperatures threatening the Earth and all of mankind.
Four months later, leaders of 175 countries met at UN headquarters in New York, where they signed the accord reached in Paris. Secretary of State John Kerry participated and signed the agreement on behalf of the United States on Earth Day, 5-22-1016. Even though this agreement is actually a treaty that should be submitted to the U.S. Senate for ratification, the UN negotiators, knowing full well the political reality that the Senate as presently constituted would not ratify, maintain that it is "binding," while not subject to Senate ratification. Therefore, President Obama will have to implement the Paris agreement via executive orders, EPA regulations, or laws.
Please oppose any attempts by the administration to implement the UN's Paris Climate Deal through executive orders, regulations, or laws. JBS has put together a great campaign to do so.
Action Item: Contact Your Representatives in Congress

Simply fill in the boxes and send…
Send your  representatives in Congress a message.