Hesperia, California: 5 – 0 Victory to Rescind the San Bernardino County Countywide Vision Achieved

PRESS RELEASE -Hesperia, California (Victor Valley Freedom Campaign – October 3, 2018) – In a 5 to 0 vote at the Tuesday night October 2nd 2018 council meeting in Hesperia, California, the city unanimously voted to overturn and rescind the Countywide Vision statement the city endorsed in 2011. Citizens attended the meeting and expressed their concerns about the vision.
Willard Clampitt said, "In 1988 the people gathered to create a new city: the city of Hesperia, separate and distinct from the County. The city is now enrolled in a vision plan put forth by the County from which this sovereign city evolved. We are conceding to matters not just to the County but matters filtering down from doctrines put forth by the United Nations, The Paris Agreement: the U.N. 2030 Agenda for Sustainable Development and U.N. Agenda 21. Is this not somewhat of an oxymoron? As residents and citizens, we can function as sovereign individuals or be overseen by the County. Keep local control… The Countywide Vision was fostered by a go along to get along sentiment."
Brett Kahn, with the Victor Valley Freedom Campaign, said that the vision supports Common Core education standards, which usurp local control and is offensive to many in the community. He stated that consensus groups mentioned in the vision are there to enforce sustainability, which is rationing from the government in one form or another. He mentioned that public-private (P3s) partnerships were mentioned in the vision as policy making entities called "Vison Great Examples", which grays the lines between government and corporations. This a concern because it foments crony capitalism or corporatism at the exclusion of competitors and where profits are privatized and losses are typically socialized on the backs of taxpayers.
Tressy Capps said she attended many of the Countywide Vision consensus meetings. She mentioned that, "meetings were all preconceived, people did not get to weigh in; they were told what their vision was." She said she did not agree with the Cradle to Career goal in the vision and that she did not want the County involved , in anyway, with her newborn grandchild. She said that Hesperia should consider pulling out of the Countywide Vision because it is, "not the people's vision."
Dan Titus, with the American Coalition for Sustainable Communities (ACSC), spoke about protecting local control, which is being given away to unelected agencies, boards, bodies and commissions like the Southern California Association of Governments (SCAG). He cited a report that ACSC published to foment arguments opposing Sustainable Development (SD) in the Countywide Vision and mentioned a critique of the Paris Agreement President Trump removed the United States from*. He stated that the solution to climate change, Sustainable Development, is rationing. It is basically inventorying, cataloging and controlling all assets; then, putting them in a box where there is then a finite amount, which creates artificial scarcity where usage thresholds can be set akin to tiered water rates. He stated the goal is to charge more for services, which are used to subsidize to protected minority classes through "social equity." Furthermore, Titus stated, "it is up to citizens to raise concerns when checks and balances go awry. Trump got us out of the Paris Agreement on SD. Visions provide plausible deniability for SCAG and agencies, and political cover for State legislators. It is time to unwind the overreach of the State, starting at the local level. He recommended that the city rescind the vision statement."
Bill Jensen, former Hesperia Council member who is now on the Mining & Mineral Advisory Council, spoke on the issue of sovereignty and that Trump pulling out of the Paris Agreement was to protect that. He said sovereignty extends all the way to the local level and that Sustainability is a major problem. He cited the recent Desert Renewable Energy Plan where preemptive applications are submitted and extended for solar farms in order to prevent mining operations from coming in to production. He opined, because of sustainability, how septic tanks are required on every reduced parcel sizes and that water rights were now forced through adjudication and no above ground water storage are allowed. He resented having mass-transit forced into the city. He also resents EPA laws that indiscriminately fine people.
Robert Newman opined, "The Countywide Vision is a plan to be super imposed on you. It is a plan of globalist development. It is confining of your decisions. Don't let a distant body remove local control. You know what is best for your people. Hesperia is a sovereign city and the council is entrusted to maintain that. The city should avoid all foreign entanglements. Don't let distant plans overshadow what is best for your people." He recommended that the city get out of the vision plan."
Mary Newman mentioned that city councils have a tendency to take immediate action and do not look at the long range effects that affect children and grandchildren. The vision has already affected my family and effected many people who can't even be here. She stated, "I implore you to rescind the vision."
Mayor Pro Tem, Rebekah Swanson, was wondering if there were any legal issues with the vision. The city manager, Nils Bentsen said, "The County was trying to get cities to buy-in, but there was nothing about it that was binding. The city is not obligated to follow the vision plan." Swanson commented, "I'm wondering if it's not time to clean house perhaps."
Councilman, Jeremiah Brosowske, commented, "Why put yourself under restrictions that comes from the County of San Bernardino? when we should focus on local control… We need to fight solely for Hesperia first, not regional government."
Councilman, Paul Russ: "I don't like to cede our control to the County on anything. I'd like to see it kept locally here. We are elected by Hesperian's… left to the County, everything goes downhill because we don't get fair representation."
Councilman, Larry Bird, said "This may be something that goes on somebody's coffee table in the County or goes on a shelf somewhere, I don't see the value to our city. This document does not seem to be something our city is reflected in."
Mayor, Willian Holland, said, "I've never believed in the climate change/global warming argument. I don't believe that it's real and as the president has said: weather, it changes. We do not have a representative on SCAG (Southern California Association of Governments – a regional government body). In my entire eight years, I have not ever wanted to participate in that body." He went on to say the local council of government, San Bernardino Council of Government, of which he is currently appointed to, "does have a benefit to the city because it allows the city to fight for dollars that before the city had a voice on that body, the city did not get… whether or not the city stays in that body, is up for council discussion at a later date."
*During his speech to the Council, Dan referenced ACSC reports: Social Equity Through Sustainability: A Critical Introduction to the San Bernerdino Countywide Vision Plan and, The U.N. 2030 Agenda for Sustainable Development: A Critique, which was sent to the Trump administration as an argument to withdraw from the Paris Agreement, which the Obama Administration signed in April 2016. The administration removed the U.S. from the agreement on June 1, 2017, and a subsequent letter of thanks was received from President Trump.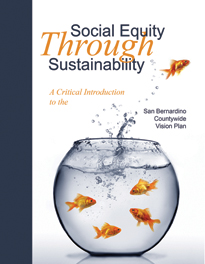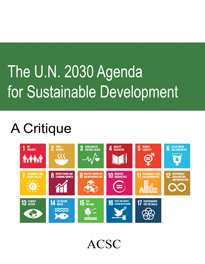 Links
Hesperia Council Meeting: 10-2-2018
Grindall61 Social Media YouTube Channel about the meeting
Contact
Brett Kahn,Victor Valley Freedom Campaign
Phone: 760-951-0386
Email: djbrett@djbrett.com
---
Articles
Sovereignty should not be sacrificed, Daily Press, 10-7-2018