Cities Need to Say No to HUD Grants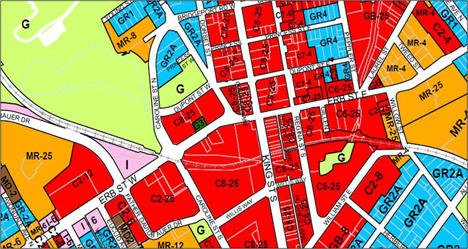 5-4-2016, Dan Titus, iAgenda21.com – The Federal government is seizing control of local zoning. If a city takes grant money from HUD and they do not zone the way the government wants, the Federal government can take over zoning for the city. Say goodbye to local control. This article is an argument that was delivered to the Rancho Cucamonga City Council regarding HUD money. Their decision was to accept HUD money because, "that was they have always done in the past" not realizing that HUD is now enforcing a zoning furl for cities that take HUD money… there are strings attached.
Position: Do not accept HUD grants. Pull item referencing HUD grants, pending further review and discussion of the HUD grant process and terms.
Fair Housing Assessment
Under HUD's discriminatory Affirmatively Furthering Fair Housing (AFFH) rule, the agency can force communities to:
Overturn voters' decisions
Change local zoning and land use regulations
Join a region against the communities' will
Rule foments lawsuits
HUD is receiving increasing numbers of third party AFFH related complaints and lawsuits are forcing communities into line. In 2011, HUD charged more cases than in the entire preceding decade. Some of the current administrative actions include these locations:
Marin Cty, CA
Suffolk County, NY
Sussex Cty, DE
Danville, IL
Jefferson Parish, LA
Waukesha Cty, WI
Current lawsuits include:
Westchester County, NY (False Claims Act)
Texas Dep't. of Housing (Disparate impact)
Oyster Bay, LI (Housing discrimination)
Nassau County, NY (CDBG, HOME)14
Dubuque, Iowa: Loss of Local Control
As elected officials continue to change the culture and ambiance of their cities via the allure of easy grant money, many are learning the hard way, that there is no "free lunch". Federal agencies are now evoking heavy-handed enforcement power. Jurisdictions' that do not comply with detailed grant terms and conditions will be forced into compliance through costly litigation. The U.S. Department of Housing and Urban Development (HUD) has a new rule to affirmatively further fair housing (AFFH), which is causing angst. Gone are the days where HUD touted that local communities were better equipped to decide what to do with grant money than the federal government. In place of local decision-making, there is now a HUD supervised data compliance management system that is complex and expensive to implement.
HUD's Assessment of Fair Housing (AFH) analysis tool basically models information collected from the census and is based on regional goals rather than local zip codes and point systems; therefore, demographics for cities can be compared to cities hundreds of miles away. For example, the city of Dubuque, Iowa, was forced to accept low-income section 8 housing voucher applicants as per the point system they established. Dr. Stanley Kurtz writes in a January 2016 article published in the National Review: "Although HUD's rules ostensibly allow localities to craft their own housing priorities, Dubuque's point system was deemed unacceptable by HUD. The feds undertook a review of Dubuque's housing policy that effectively treated the city as part of greater Chicago, effectively treating Dubuque and Chicago as part of the same "region."
Furthermore, AFFH redefines "fair housing" to include proximity to transportation, jobs, and schools. This will effectively extend the power that HUD now exercises over housing policy to nearly every other aspect of local development and planning. Under AFFH, once a town takes HUD money, it effectively loses control not only over housing but schools, zoning, transportation, the environment, and business location. In the end, the cowed elected officials of Dubuque signed a "voluntary" (in truth, forced) consent agreement that effectively ceded control of the city's housing policy to HUD for at least five years – "If you take their money, you play by their rules." 13
HUD to the Rescue: We Are Here to Help
n a press release dated July 8, 2015 HUD announced the final rule on affirmative furthering fair housing (AFFH) – The U.S. Department of Housing and Urban Development (HUD) announced a final rule today to equip communities that receive HUD funding with data and tools to help them meet long-standing fair housing obligations in their use of HUD funds. 10
HUD Secretary Julián Castro. "Unfortunately, too many Americans find their dreams limited by where they come from, and a ZIP code should never determine a child's future.
HUD will… facilitate local decision-making on fair housing priorities and goals for affordable housing and community development by providing… data they can use to achieve those goals… and clearer guidance, more technical assistance, better compliance and more meaningful outcomes.
HUD will create a streamlined Assessment of Fair Housing (AFH) planning process, which will help communities analyze challenges to fair housing choice and establish their own goals and priorities to address the fair housing barriers in their community.
HUD will phase in implementation of the rule so that grantees have substantial time to transition to the new approach. By encouraging a balanced approach that includes targeted investments in revitalizing areas
HUD will provide support to program participants that need to complete an Assessment of Fair Housing to ensure they understand the process and to identify best practices across a diverse group of communities.
Congressional Pushback
In a press release dated, April 23, 2015, U.S. Congressman Paul A. Gosar, D.D.S. (AZ-04) released the following statement after introducing the Local Zoning and Property Rights Protection Act which would prohibit the Department of Housing and Urban Development (HUD) from implementing a new regulation known as Affirmatively Furthering Fair Housing (AFFH):11
"The calling card of the Obama Administration has been to use overreaching executive mandates and regulations to force American families, businesses and consumers into complying with its far-left, utopian ideology. The AFFH rule, soon to be implemented by HUD, is no different. AFFH is another top-down, social engineering experiment concocted by bureaucrats in Washington D.C. that attempts to federalize local zoning decisions.
"Similar to other big government policies from this administration, the flawed AFFH regulation will result in more harm than good by way of increased taxes, depressed property values and further harm to impoverished communities. This is extortion and the Obama Administration should not be mandating that millions of dollars in grant money for local communities be dependent on turning over local zoning decisions to the federal government.
"Local zoning decisions have traditionally been, and should always be, made by local communities and municipalities. American citizens should be free to choose where they would like to live and not be subject to neighborhood engineering and gerrymandering at the behest of an overreaching federal government."
Subsequenty, Gosar introduced a bill titled, the Local Zoning and Property Rights Protection Act, HR1995, which currently has twenty-five cosponsors.12
Lawsuits Are Imminent
In his book, Agency Tyranny, John Anthony outlines negative impacts of HUD's AFFH rule:14
"In a July 16, 2013 speech for the NAACP, HUD Sec. Shaun Donovan made it clear; HUD will be "stepping up fair housing enforcement."70
"There are no stones we won't turn. There are no places we won't go. And there are no complaints we won't explore in order to eliminate housing discrimination."
As noted earlier, as per HUD's press release, says it "will assist recipients to adjust their land use and zoning laws to meet their legal obligation to affirmatively further fair housing."71
The "legal obligation" HUD refers to is the applicants' agreement to affirmatively further fair housing. But the wording is trickier than in the past. The specific clause reads…
Your jurisdiction agrees to "take no action materially inconsistent with its obligation to affirmatively further fair housing."
According to Law 360, Affirmatively Furthering Fair Housing:
"Sets the stage for a false claims lawsuit against fund recipients."
"Perhaps most significantly, each jurisdiction is required to submit a certification that it will affirmatively further fair housing, "which means that it will take meaningful actions to further the goals identified in the [assessment of fair housing] … and that it will take no action that it is materially inconsistent with its obligation to affirmatively further fair housing."
The article continues…
These actions can be "likened to the bases for False Claims Act lawsuits filed by the U.S. Department of Justice."72
HUD lawsuits are real and growing.
Before the New York court even announced their August 2009 Westchester settlement, HUD had already begun a compliance review of Marin County for failure to affirmatively further fair housing.73
Like Westchester County, Marin was another tony community with 80% white population and HUD decided it needed integration.
After a year, legal notices and negotiations, the community acquiesced to sign a Voluntary Compliance Agreement.74 Among other stipulations, Marin agreed to…
"…promote interest in living in Marin County among underrepresented groups that reside in or commute from adjacent counties"
"On an annual basis for 5 years, Marin must provide HUD a report on the minority attendance at public meetings including the time and date, location race and ethnicity of attendees.75"
HUD even told the County Board items that needed to be on the agenda and what the vote outcome must be…
"…undertake actions that would lead to the County's Board of Supervisors declaring it is the policy of the County to encourage private developers to undertake analysis of expected participation rates, and to affirmatively market to those protected classes including racial or ethnic minorities…"76
When a grant recipient fails to affirmatively further fair housing, HUD can respond with a compliance review, loss of the grant money or lawsuits. Third parties can initiate lawsuits, as can the very same people you invited to participate in your community's Fair Housing Assessment.
Here is an example:
In August of 2015, a developer proposed building 69 affordable housing units for the New Towne development in Rockford, IL. The town council, county board and the public voted to build 49 instead. The developer redrew his plans in a way that guaranteed the plans would advance, in spite of community opposition.
Community members had witnessed high crime rates with previous public housing projects and were not anxious to repeat the problem. A rowdy town meeting followed and the vote was postponed. Two weeks later, the town voted for the smaller number of units.77
Less than 90 days later, the town received notice of a HUD compliance review. In it, HUD alludes to the comments made at the town meeting that triggered the investigation.
Rockford was threatened with a civil rights investigation, possible failure to affirmatively further fair housing and told that any violations of the Fair Housing Act relative to land use or zoning laws would be reported to the Department of Justice.78
Under pressure, public officials did an embarrassing turnaround, caved to HUD and reversed the community's vote."79
Supplemental
Affirmatively Furthering Fair Housing (AFFH) has been a HUD provision since 1968 as has the obligation to further the provision.  However, it was weakly enforced. The 2015  ruling called AFFH, used the False Claims Act suits,  initiated by community groups, to hold communities accountable.
Background on AFFH
In a PowerPoint presentation by civil rights law firm a of Allen, Relman, Dane & Colfax.  Explained is New AFFH rule and relates it to the former Assessment of Impediments form.  ARDC is a civil rights powerhouse and was the firm that litigated the Westchester County case that gave birth to the idea of using False Claims Act lawsuits to compel communities to follow HUD's social and planning prescriptions.1
This is from ADRC's Web site in explaining the basis behind AFFH.  Notice in particular, the second paragraph. Local community activist groups are the 'stick' which enforces AFFH:
"What HUD produced is a Final Rule long on "carrots," but painfully short on "sticks." To compound that problem, HUD does not currently have—and is very unlikely to acquire—sufficient resources to police the compliance of 1200 block grant recipients and 3400 public housing agencies. As a consequence, the promise of the Affirmatively Furthering Fair Housing (AFFH) mandate is likely to be realized only in communities where grassroots and legal advocates mobilize and create their own enforcement strategies. The success of the Final Rule will depend on this grassroots mobilization, on a community-by-community basis, all over the country. That means advocates, collectively, need to step up to the plate and provide the tools and resources for a sustained "ground game."2
This is ARDC video explains the relationship between AFFH and the Westchester case.3
HUD's AFFH Tools
This is HUD's Assessment of Fair Housing(AFH) which replaces the old Assessment of Impediments (AI).  In the document, notice the 77 references to comparing jurisdictional and regional data.  The comprehensive plan you submit to HUD, to overcome "Contributing Factors" to discrimination or imbalance, must compare your local jurisdiction's data to that of the region.4How closely must they compare?  How closely must your plans align? What happens if your community does not like the region's zoning laws and plans?  What limits are placed on HUD to either directly or indirectly control local decisions and/or outcomes?  Also notice the "Contributing Factors".  These must be addressed to remove discrimination.
Responses to HUD
Douglas County, CO reviewed the Assessment of Fair Housing above and noted these concerns in a letter to HUD.5
Castle Rock, the county seat for Douglas County, CO, opted to reject HUD's CDBG funds.  The recipients of the funds were concerned and wanted to know why Castle Rock decided to turn down the money. Castle Rock's response to the groups.6
Legal
This is the Westchester V HUD settlement in 2015.7 (The Anti-discrimination Center of Metro NY sued Westchester under the FCA in 2006.  That case was settled in 2009 at which time HUD entered and additionally sued for discrimination.  That was settled in 2015.  While no discrimination was found, HUD was able to increase the costs of the original settlement to Westchester.)
This is HUD's Compliance Review of Marin County, California.8 Notice on page 4 out of 9, they quote the Westchester case.
This is Marin County's Voluntary Compliance Agreement with HUD pursuant to the compliance review.9
References
1 http://sfl.golddustwebsolut.netdna-cdn.com/wp-content/uploads/2015/11/AFFH-PPT-Overview-by-Oregon-Fair-Housing.pdf
2 http://furmancenter.org/research/iri/essay/huds-new-affh-rule-the-importance-of-the-ground-game
3 https://www.youtube.com/watch?v=yzYSH1KcuAQ
4 http://sfl.golddustwebsolut.netdna-cdn.com/wp-content/uploads/2015/11/AFFH-Assessment-of-Fair-Housing-Tool-1.pdf
5 http://sfl.golddustwebsolut.netdna-cdn.com/wp-content/uploads/2015/11/Douglas-County-Response-to-AFFH-1.pdf
6 http://sfl.golddustwebsolut.netdna-cdn.com/wp-content/uploads/2015/11/CASTLE-ROCK-LETTER-TO-HUD-GRANTEES-Apr.-5-2016.pdf
7 http://sfl.golddustwebsolut.netdna-cdn.com/wp-content/uploads/2015/11/Westchester-V-HUD-Final-Decision-9.25.2015.pdf
8 http://sfl.golddustwebsolut.netdna-cdn.com/wp-content/uploads/2015/11/HUD-Compliance-Review-Marin-Jul-2009.pdf
9 http://sfl.golddustwebsolut.netdna-cdn.com/wp-content/uploads/2015/11/10-Marin-VCA-final-12-21-2010.pdf
10 http://portal.hud.gov/hudportal/HUD?src=/press/press_releases_media_advisories/2015/HUDNo_15-084
Rep. Gosar Introduces Bill to Protect Local Zoning Decisions from New Obama Regulation
11 https://gosar.house.gov/press-release/rep-gosar-introduces-bill-protect-local-zoning-decisions-new-obama-regulation
12 https://www.gpo.gov/fdsys/pkg/FR-2015-07-16/pdf/2015-17032.pdf
13 http://www.nationalreview.com/corner/429693/affh-preview-obamas-hud-takes-over-dubuque-iowa
14 Book, Agency Tyranny, by John Anthony, http://sustainablefreedomlab.org
Note: The following citations as per the book Agency Tyranny: John Anthony, available for in PDF format @ sustainablefreedomlab.org
70 http://portal.hud.gov/hudportal/HUD?src=/press/speeches_remarks_statements/2013/Speech_071613
71 http://sfl.golddustwebsolut.netdna-cdn.com/wp-content/uploads/2015/11/AFFH-in-Federal-Register.pdf
72 http://sfl.golddustwebsolut.netdna-cdn.com/wp-content/uploads/2015/11/HUD-Sets-Stage-For-FCA-Claims-Law360.pdf
73 http://sfl.golddustwebsolut.netdna-cdn.com/wp-content/uploads/2015/11/HUD-Compliance-Review-Marin-Jul-2009.pdf
74 http://sfl.golddustwebsolut.netdna-cdn.com/wp-content/uploads/2015/11/10-Marin-VCA-final-12-21-2010.pdf
75 Ibid.
76 Ibid.
77 http://usofarn.com/2015/11/25/hud-launches-civil-rights-and-fair-housing-investigation-against-rockford-city-council/
78 http://sfl.golddustwebsolut.netdna-cdn.com/wp-content/uploads/2015/11/Rockford-IL-Civil-Rights-Compliance-Review.pdf