Riverside County Cities Say, No to Community Choice Aggregation (CCA)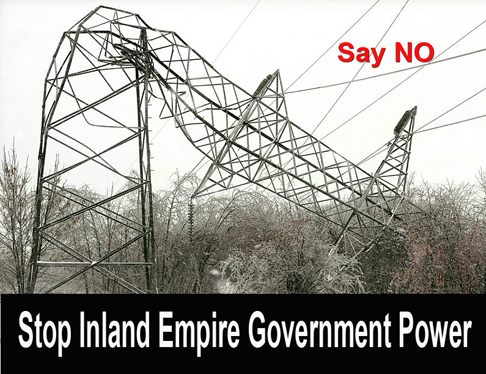 On August 7, 2018, the city of Murrieta, voted not to join a CCA. Subsequently, the city of Menifee, voted to not join a CCA and decided to wait and review in the future.
Valley News , 8-22-2018 – Murrieta City Council at its Aug. 7 meeting opted not to join a new power-buying authority known as a community choice aggregation, or CCA, created by the Western Riverside Council of Governments.
Joining the CCA could have saved Murrieta residents 2 percent on their electrical bills, but city leaders felt there were too many unanswered questions and getting involved in the electrical business could leave the city with too much liability.
Rick Bishop, executive director of WRCOG, told the city council that a typical household in Murrieta is projected to save $72 if the city joins the CCA – residents of a city that joins are automatically enrolled in the CCA, but can opt out whenever they like.
"Now that doesn't sound like a ton," Bishop said. "But we know that we still live in an era where people are clipping coupons to go to the grocery store or going way across town to buy gas at a cheaper rate, and this is $72 for doing absolutely nothing."
The CCA would purchase power directly from the source, but using Southern California Edison's power lines, so the utility company still gets paid for transmission. The savings a CCA can generate come because Edison is locked into long-term fixed contracts for the actual purchase of the power, and CCAs are not. More
Critique of Comments Made at the Council Meeting
Video of the council meeting. Watch from at 2:19:51  https://vimeo.com/284211488
Jim Phelps, coauthor of the report Community Choice Aggregation: A False Choice offers a critique of comments made by representatives of WRCOG at the 8-7-2018 Murrieta council meeting.
Activist Engagement
Patrice Lynes and concerned citizens, with the Southwest Citizens Action Committee, have been actively engaged in educating elected officials about CCAs  and attending council meetings in Riverside County. She can be reached @ patrice.lynes@gmail.com