$38 Million County Program Pits Business Against Residents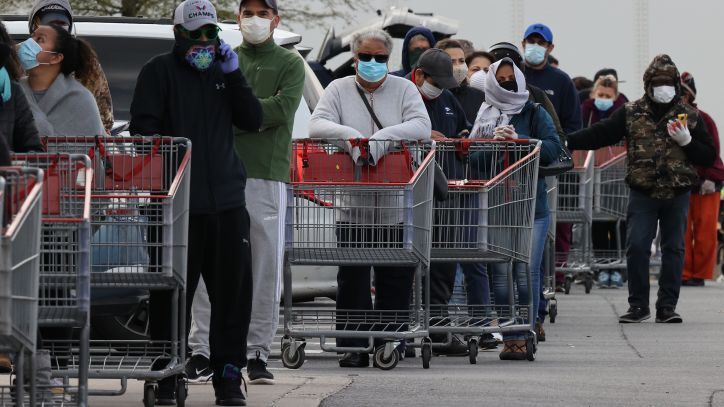 By Dan Titus, iAgenda21.com, 7-1-2020
Several weeks ago my wife visited a local business to buy empanadas. She was told that she had to wear a face mask this, after San Bernardino County, California, officials said in early May that face masks were optional. We called the proprietor of the business and told him that we would not shop at his store until he stopped discriminating and interfering in our right to conduct legal business transactions. We protested basically because we don't want to have an adversarial relationship with the business community, the people we give money to. There are potential risks of liability lawsuits for businesses that attempt to enforce ever-changing, arbitrary "guidelines and recommendations".
The government response to the Covid-19 pandemic changes like the colors of a chameleon lizard and procreates faster than rabbits. The blueprint is always the same with "bailout crisis". After an economic crisis, the government comes to the rescue with "carrot and stick" schemes. Since everyone is broke and desperate, they sign on for carrots, or free money. Bingo, the government institutes agendas through behavior modification.
With the Covid-19 response, the government can pull a rabbit out of their hat whenever they want. If you pan for gold, you will eventually some gold. If you test for Covid-19 antibodies, you will eventually find them. The policy keeps the "crisis" going and keeps the cycle of Recommendations Enforcement and Compliance (REC) in the public arena. In the most recent iteration of this cycle, on June 19, Governor Newsom stated that all people must where a face masks. He pulled a rabbit out of his hat. He dictated arbitrary governance that Peggy Hall, of The Healthy American, is successfully challenging.
Large multinational companies like the airlines, Costco and UPS took COVID-19 money; therefore, they are bound by contract terms and conditions for the loans. We disagreed with Costco's enforcement policy, so we cut our Executive Membership card in half and cancelled our membership of 28 years. We do not feel it is businesses responsibility to do the government's job of enforcement, which is a police function. We don't believe that enforcing government "recommendations" is ethical business practice. So, we happily left Costco when we elected to vote with our feet by participating in the free market. We opted to find competitors to them, including small business.
Covid-19 government over reaction has pitted businesses and people against one another. Politicizing the crisis has not helped. The solution creates a nanny state and emboldens State overreach.
The Covid-19 solution is being financed and instituted similar to what was done to institute climate change solutions: 2008 stimulus bailout money was passed out in the form of grants. The grants have terms and conditions that must be adhered to. Planners and consultants told residents that solutions, embraced by our cities, were simply recommendations. Fast forward to today, and we see squishy government recommendations and guidelines being enforced by businesses through terms and conditions for stimulus loans they received.
On 6-29-2020, San Bernardino County officially launched the COVID-Compliant Business Partner Program, which includes a website with an online database denoting businesses that have joined. In consideration of $2,500 they have received, they must enforce safety guidelines or they will be in breach of contract and will have to return the money. Guidelines and recommendations are not law.
County Supervisor, Curt Hagman (Republican) said, "This is another tool to reward those businesses that take other people's well-being seriously." Workers and customers alike prefer to interact with companies that make their health and safety a priority…" These statements are highly debatable.
We don't want our "well-being" to be dictated by our merchants, claiming our "health and safety a priority." We're not going to give up our rights of free association, to make legal business transactions and to participate in legal commerce. We won't patronize stores that are "rewarded" by government as an incentive to demean our rights by adhering to arbitrary guidelines and recommendations because they take bribe money.
The COVID-Compliant Business Partner Program is a program that could have blowback, or unintended consequences.
The program was pitched as a way to provide small businesses with money to get hand sanitizer and face masks; however, for the $2,500 dollars received business agree to enforce government edicts.
Millions of dollars are being expended on this program. This money is a windfall for County because it subsidizes public employees and fits with the Countywide Vision goal of spending never ending grant and loan money to prop up revenues. The County received $38 million for the program: $30 million cost for the COVID Compliant Business Partnership Program and $500,000 for grant administration. $7.5 million in costs are for protective equipment supplies, which will be made from the Economic Development Department Budget and Purchasing 2019-20 Budgets, respectively, and are anticipated to be funded through Federal Coronavirus Aid, Relief, and Economic Security (CARES) Act Coronavirus Relief funds. The program will continue until funds are expended. Currently, the County is paying County the $500,000 to administer the program. As of the date of this writing, we do not know the distribution logistics for protective equipment supplies.
In regards to the development of the program, Board of Supervisors Chairman Curt Hagman and Vice Chair Josie Gonzales (Democrat) brought the concept for the COVID-Compliant Business Partnership Program to County CEO Gary McBride and Chief Operating Officer, Leonard Hernandez, and asked them to develop the concept into a proposal for Board of Supervisors consideration. Mr. McBride and Mr. Hernandez spent County resources and assigned various County Administrative Office staff members to develop the program, which was approved by the Board of Supervisors.
The County received an allocation of Federal Stimulus dollars (CARES Act Coronavirus Relief Funds), which is being used to pay for the COVID Compliant Business Partnership. To receive the funds, the County, under the Charter-designated authority of the Chairman, had to certify that expenditures would be used in accordance with Federal "guidelines".
Governments always take advantage of crisis. The current kneejerk reactions, which further government control, are proof of that. However, we and others are pushing back and pointing out government overreach – we encourage you to do the same.
Though well intentioned in the view of government bureaucrats, the San Bernardino COVID-Compliant Business Partner Program may have considerable blowback because it may discourage people from visiting businesses that apply for this program and as businesses reconsider the potential litigation the program could bring.