Community Choice Reprise in San Bernardino County
Community Choice Aggregation (CCA) is being promoted as a quick way for jurisdictions to make money. There are many pitfalls in  feasibility studies and business plans being offered by CCA consultants – buyer beware
ACSC critiqued a joint CCA business plan for San Bernardino County and Riverside County, which was authored by EES Consulting. In May 2017, jurisdictions meeting at the county council of governments failed to muster a vote and the plan failed; this, after activists argued the many flawed attributes presented in the plan. Though the CCA plan was defeated in San Bernardino, EES Consulting took the same plan to the council of governments in Riverside and moved forward with assisting with the development of Western Community Energy.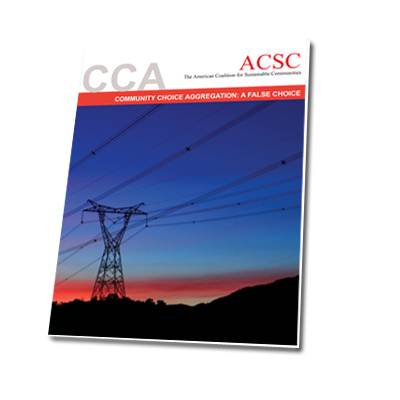 ACSC's report, Community Choice Aggregation: A False Choice, was sent to all jurisdictions in Riverside County in 2017. The report informed and warned city staffs in the county about the pitfalls of CCAs. Also, armed with knowledge from the report, activists interfaced with their elected representatives. The consultant for the CCA called, Western Community Energy, was EES Consulting. Rob Nikolewski of the San Diego Union-Tribune reports, Riverside County community choice energy program closes its doors for good after bankruptcy – 6/16/2021.
EES Consulting assisted the city of Irvine with a feasibility study for a CCA. This grew into a CCA called Orange County Power Authority (OCPA), which launched at the end of 2020. The CCA instituted rate hikes a couple of months after opening its doors. Problems ensued and in December 2022, the Orange County Board of Supervisors voted to leave the OCPA. Subsequently, the City of Huntington Beach elected to leave OCPA in May 2023.